New product in Latvian market- Steel cut oats!
2020 December 8
Whole grain oats, quick cooking oats and now another type of oats have appeared on store shelves - Steel cut oats!
We do not flatten- we cut!
Initially, the whole journey of oats to the breakfast plate begins in the same way – the grain is cleaned from the husk and it turns into groats. The groats are then treated with steam to keep the quality and taste of the final product unchanged. This also extends the shelf life of the product.
Further, the fate of groats is divided – some are destined to become flakes and some to steel cut oats. When preparing the flakes, the groats are flattened to the required thickness in so-called rollers. In this process, the flake becomes soft and the bran peels off, so the cooking time of oat flakes is relatively short. In order for the groats to become a fast-cooking flake, it is both flattened and cut.
In contrast, in the production of steel cut oats, the groats are cut into three parts or crushed with steel knives to obtain grains that are harder than flakes and have retained their original structure.
"With this technology, the grain's endosperm, bran and germ remain intact, thus preserving the grain's valuable properties," explains Natalija Lagzdiņa, a new product technologist at JSC Rigas Dzirnavnieks
Even higher nutritional value and high amount of plant protein.
Like other oat products, chopped oats have a high nutritional value, which is a great addition to almost any diet. Just 40 grams of chopped oats contain 150 calories, 5 g of protein, 2.5 g of good fat, 27 g of carbohydrates, 15% of the daily fiber and 10% of the daily dose of iron.
"This product may seem especially valuable to vegetarians and vegans, because chopped oats contain a lot of vegetable protein," emphasizes Natalia.
At lower doses, they also contain several vitamins and minerals necessary for the body, such as vitamin E, folate, zinc and selenium. Oats are made into a super product by the fiber beta-glucan, which has a beneficial effect on health. Meanwhile, chopped oats stand out among other oat products with a higher fiber content.
Creamy porridge with a distinctly nutty taste.
Steel-cutted oatmeal has a unique taste and texture – it has a distinctly nutty taste and creamy structure. This porridge is definitely different from the usual oatmeal porridge.
As more of the grain itself is preserved during the production of chopped oats, the surface area of ​​the final product is smaller. It should be noted that chopped oats do not absorb water as fast as conventional oat flakes, which are large and flat, so it will take more time than usual to prepare chopped oats. If the meal is prepared from whole grain oat flakes in about 10 minutes, then the chopped oatmeal will take 25-30 minutes. But believe us – it's worth it!
Smalcināto auzu putrai piemīt unikāla garša un tekstūra – tai ir izteikti riekstaina garša un krēmīga struktūra. Šī putra noteikti atšķiries no ierasto auzu pārslu putrām. Tā kā  ražojot smalcinātās auzas tiek saglabāts vairāk no paša grauda, galaprodukta virsma ir mazāka. Jāņem vērā, ka smalcinātās auzas neuzsūc ūdeni tikpat ātri kā ierastās auzu pārslas, kas ir lielas un plakanas, tādēļ smalcināto auzu gatavošanai būs jāvelta vairāk laika nekā ierasts. Ja no pilngraudu auzu pārslām maltīte top gatava aptuveni 10 minūtēs, tad smalcināto auzu putrai vajadzēs 25-30 minūtes. Taču ticiet mums – tas ir tā vērts!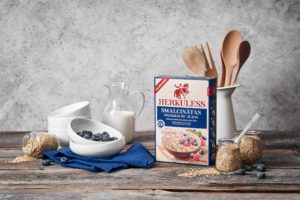 How to prepare Steel-cut oats?
Steel-cut oats, the same as oat flakes, can be prepared in many different ways. Most often this is a breakfast dish, because it is simple to prepare and provides energy for the whole day.
The recipe is quite simple. 160 grams (1 glass) of Steel-cut oats will require about 710 ml (3 glasses) of water or milk. You can add a pinch of salt to enhance the taste of oats. Pour the oats with water or milk and cook, stirring regularly, for about 30 minutes or until oatmeal is ready.